CMBlu Energy AG, which employs 90 people, develops and manufactures organic electrolyte-based stationary bulk power stores for all sectors of the energy systemat its Alzen au location in the Frankfurt Rhein Main metropolitan region in Germany. Dr Evgeny Larionov tells us more about the role of his organisation and his own in the project development.
What is the role of your team in the implementation of BALIHT?
The role of the CMBlu Team is actually very important in this project: we are responsible for developing, constructing and producing the final battery system, which will – hopefully – do its job at the Botafoc harbour in Ibiza in 2022*. For the development of its different components (frames, electrodes, membranes, battery management system) we can thankfully count on the proven expertise of the various project partners.
My role in CMBlu's team is focused on the "blood" which runs through the veins of the battery: I am responsible for developing the organic electrolytes.
What have you been working on so far in the framework of BALIHT?
We have first identified several promising electrolyte candidates, that are expected to be stable at higher temperatures. The synthetic routes to these candidates have been thoroughly designed and reviewed as well. Then we started an actual work in the research labs, where our team of talented chemists and lab-technicians are synthesizing electrolyte candidates in gramm-scale.
What will be the next main steps for you in the coming months?
By the mid 2021 we will choose the most promising electrolytes, that will be used for the scale-up. In this next phase, the synthesis of these candidates will be optimized in kg-scale, so that we can start a production campaign in a ton-scale.
In the hardware area, we will be setting up a lab-scale battery in the next few months in order to be able to test and evaluate the developed components on a small scale before the design and construction of the final battery system begins.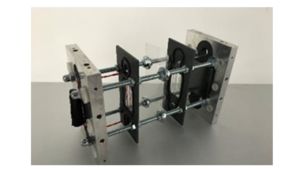 A well-equipped analytical department is doing a great work to fully characterize the synthesized substances. Finally, successfully synthesized candidates are tested in a small redox-flow battery (called "ant" at CMBlu internally). Those tests deliver important information on the electrochemical properties of the developed electrolytes. Electrodes and membranes are also characterized with these "ant" cells.
What made CMBlu eager to get involved in the BALIHT project?
We were excited to accept the challenge to develop an organic redox-flow battery, that can be used at higher temperatures. Furthermore, getting in touch and cooperating with experts from different European countries and networking are important steps for the strategic development of CMBlu from our point of view.
* Location where BALIHT's redox battery prototype is expected to be installed.